Compound feed for Japanese tiger prawns that took the cultivation world by storm.
With the success in development of Japan's first compound feed for tiger prawns, farming shrimp became possible in areas where cultivation had previously been considered difficult. With this, the production volume increased significantly.
Aquaculture using this compound feed became considerably common around the world, especially in Southeast Asia, and the prawns cultivated in this area are now imported to Japan.
The compound feed made in Kagoshima has contributed greatly to the safe and secure cultivation of tiger prawns and succeeded in adding variety to the daily menu for Japanese people.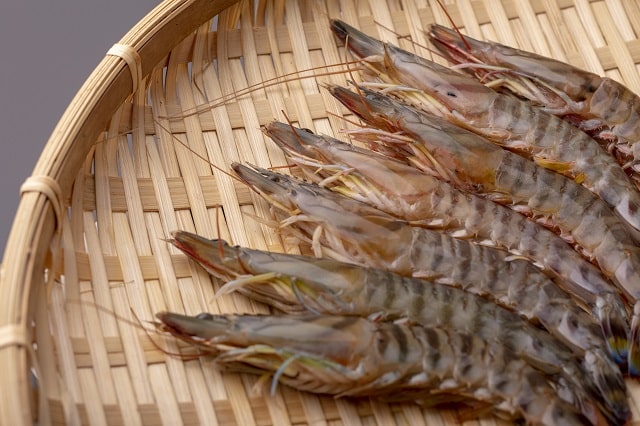 Compound Feed for Black Tiger Prawn
Ushiebi, a shrimp widely known as black tiger prawn, inhabits tropical and subtropical regions of the Indo-Pacific. Black tiger prawns are popular and served worldwide.
Black tiger prawns are an important species in fisheries and aquaculture, famous for their large size.
The compound feed which Yumiba Trading Co., LTD. exports is highly evaluated by aquaculture companies for its quality, its ability to culture prawns fast and its effectiveness in preventing pollution of aquaculture water.
Compound Feed for Whiteleg Shrimp
Whiteleg shrimps are smaller in size compared to tiger prawns and black tiger prawns. It is often used as an ingredient for dishes such as "shrimp cooked in chili sauce", a popular menu in Japan.
Our compound feed has contributed significantly to the increase of whiteleg shrimp production. Recently, shrimp farmers in Southeast Asia have changed the target of their cultivation from black tiger to whiteleg shrimp, which led to the volume handled in Japan to increase.